Polymer Clay, Precious Metal Clay and Beading Instructional Videos


Linda Bernstein
Linda is a certified PMC Senior Instructor for the PMC Connection and qualified to teach Level 2 classes. Linda has taught numerous workshops in PMC, as well as polymer clay and other media, throughout the country. A veteran author, art juror, and exhibit curator, Linda has also made appearances on the Carol Duvall show. Linda holds a BA in Art Education and a Masters in Special Education, both from Northeastern Illinois University; she has been involved in art and art education for over thirty years. Linda's artwork is available through galleries, and on-line through her business "Artique".
Linda's Website:
http://www.artique.org/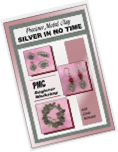 Precious Metal Clay
The Beginners Workshop
You will learn all the basic techniques of forming PMC into sheets, balls and ropes; make molds, forms and learn how to carve it. Finally, you will learn finishing techniques including tumbling, brushing, oxidizing, polishing and burnishing
The four projects include a carved dangle earring set, a stamped rope edge bracelet, a stone set fold over bail pendant and making molded elements.

Runtime: 57 Mins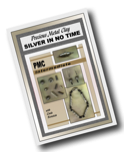 Precious Metal Clay
The Intermediate Workshop

This amazing new clay transforms into pure silver after firing in a kiln. In this workshop Linda Bernstein teaches you all about three-dimensional objects. You will make numerous Precious Metal Clay objects. Beginning with beads - round, barrel shaped with inset stones, croissant, and those shaped like a mini bagel or goldfish. Next learn to make bead caps with imbedded barrel clasps and bezels to hold polymer clay embellishments. Linda shows you how to make rings and attach findings before and after firing.

Runtime: 111 Mins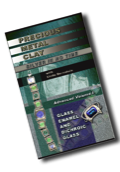 Precious Metal Clay Advanced Volume I
Glass Enamel and Dichroic Glass

Learn techniques for combining PMC with Glass Enamel and Dichroic Glass. Bring the exciting color of glass to your PMC work. Create the contrast of silver with the brilliant colors of glass enamel or dichroic glass. Explained and demonstrated in this video is glass enamel on a stamped image, reverse stamp mold, Syringe cloisonné and enamel fades as well as a fail proof sheet bezel for a dichroic glass cabochon.

Runtime: 53 Mins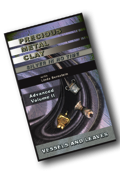 Precious Metal Clay Advanced Volume II
Vessels and Leaves

Learn PMC techniques to create vessels with various armatures and finishes as well as leaves done with PMC Paste. Explained and demonstrated in the video are armatures made of match boxes, index cards, cork clay, vessels from a mold, slump molds, as well as liver of sulfur, Raku, silver black, leaves of PMC and more!

Runtime: 53 Mins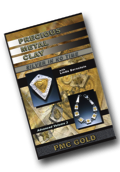 Precious Metal Clay Advanced Volume 3
PMC Gold
In this video you will learn how to use Gold PMC Clay. Forming gold elements by sculpting, stamping, molds, cutters, textures, the addition of fine silver connectors, bails and cast in place stones are demonstrated. Firing and the use of gold elements are taught. Making gold paste, its application and how to fire it, as well as, making and using molds are also covered.

Runtime: 57 Mins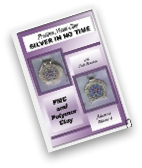 Precious Metal Clay Advanced Volume 4
Vessels and Leaves

Although they aren't fired together, these media are
married by creating the PMC base first and then adding
polymer clay insets. Alternatively, embedding fired PMC
insets into polymer clay offers another choice for combining them. The PMC bezel is created using an innovative reverse bevel technique. No adhesive is required because it forms a secure bond once the polymer is cured.
Additional polymer techniques included in this detailed video are:
* Skinner Blend - a color gradient sheet
* Brain Cane and/or Crazy Kaleidoscope - a Skinner blend
sheet covered with a solid color sheet that is folded,
reduced and multiplied
* Bulls eye, shaded stack - other Skinner Blend techniques
* Scrap - twisted rope and marbleized sheet

Runtime: 45 Mins