Polymer Clay, Precious Metal Clay and Beading Instructional Videos


Louise Cozzi's
award winning pieces and articles have appeard in Belle Armoire, Bead and Button, and Lapidary Journal as well as numerous books. She shows and sells her work at galleries nationwide.
A local, national, and international teaching artist to all ages and levels, Cozzi appreciates the the symbiotic relationship between creating and teaching
In her current work, she forms simple elegant shapes of translucent clay and infuses them with layers or texture and color that suggest infinite depth.
Louise's Website:
http://louisefischercozzi.com/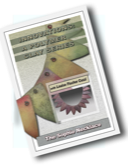 The Sophie Necklace
Learn to design your own shape (or use shapes provided) and then create vartiations by changing size and texture. Explore etching, painting and penciling techniques on these shapes. Add patinas to create beads with infinite depth and the appearance of an antiquity. Connect all these beads with decorative phone wire rivets and heishi washers. You'll find these techniques have unlimited possibilities in your polymer work.
Runtime: 90 Mins