Polymer Clay, Precious Metal Clay and Beading Instructional Videos


Gwen Gibson

Gwen's work with polymer clay arises from an impulse to play with a new medium, ancient images and wearable form. In the process of working with culturally remote images, she has discovered that polymer clay fulfills her need for a repertoire of surface effects, which serve the accretions of time. To Gwen, images come from far away and undergo countless metamorphoses with each stop along the way like the 17th century geishas which on their way to embellishing a bracelet, visited and were transformed by an imaginary Japanese comic strip artist.
To learn more about Gwen, her class schedule or to see more of her work, click here:
gwengibson.com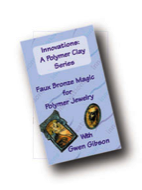 Faux Bronze Magic for Polymer Jewelry

Learn how to use polymer clay to frame images and then apply rich surfaces of patina bronze. Gwen shares her latest discoveries about image transfers on polymer clay. Next, enhance images with polymer clay frames. The basic frame building techniques you'll learn will be a springboard to creating endless variations. Finally, you'll learn all about patinas that transform your work into ancient artifacts and more.